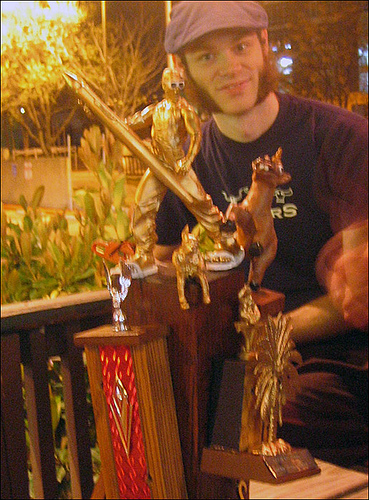 We got blanked at Wednesday's Seattle 2.0 Awards ceremony — we lost the Startup Software Designer competition, Best Technologist, Startup CEO, and couldn't even take home Best Event for Startups.  Really, it was a dismal evening.  I thought of trashing the food table, kicking in a door and punching a hole in a wall.  Instead, I decided to take it out on them economically, by eating 9 hot dogs and a huge slab of cheese.  The next 12-15 hours of stomach pain reminded me that I lost that, too.
Scott Windsor then went on to point out that we were actually the Biggest Loser — thanks Scott.
After licking our wounds, we'd like to formally submit TeachStreet for the 2011 Awards, in categories that we think we can win:
1) Team Least Likely to all be in the office before 11am
2) Snarkiest Team
3) Most Dogs per Team Member (minimum team size of 8)
4) Most Hideous Office
5) Worst Hair Cuts
Let the voting begin.  Bring it on, Redfin.