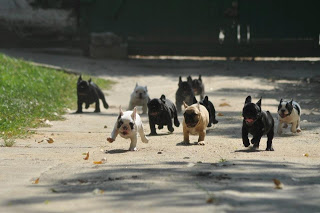 Running of the Bulldogs, from DogBreedia.com
I admit that this post is mostly to just get something new atop my blog, since I update it so infrequently.  But someone last week asked me what I read every day/week.
I'd refer you back to an older post, because amazingly, those are still all on my daily reading list — for startup industry just follow Fred Wilson, Mark Suster, Ben Horowitz, Paul Graham, and a few others.
For Seattle tech news, I like getting the daily email from GeekWire.
I also really like the daily mail from Twitter that picks stories/tweets that it thinks would be interesting to me — again, it almost always finds a few that I really like.  Yeah, I like getting emails — that way I can read or ignore from my inbox.  Else, they pile up in my feed reader.
On that note, since Google Reader shut down, I've found NewsBlur to be a nice replacement.  I think Danielle Morrill made that reco.  On that note, the startup-data mails from her new company, MatterMark, are excellent so far.
For regular professional updates, I like reviewing LinkedIn Connections emails each day — I regularly reach out to folks who I see updates on.
Peace out.
p.s. that photo has nothing to do with this post.  It's just awesome.  French bulldogs absolutely rule.  If you don't agree, face it, you're an idiot.