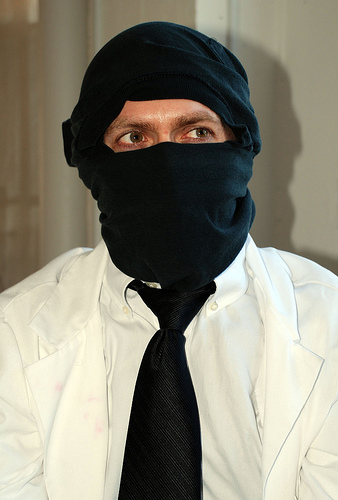 I haven't researched this, but I'd bet that the original business schools (and MBA programs) were meant to train/develop business creators, and not just business managers.  You'd expect that they'd attract the intelligent, hard-working risk-takers, since these people are forgoing short-term salary, in exchange for training and connections that will likely help them attain longer-term leadership roles and financial rewards.
But it's my observation from my time at Wharton (and hiring MBAs from Harvard, Stanford, Kellogg, etc.) that the majority of MBA prospects are actually some of the most risk-averse people you'd ever find, and the great majority (95%+) will never start a business of any kind, understand little about the difficulty and risks involved, and yet will have strong opinions about how every business should and could be run if they were in charge.  Why is this?  My hunch is that it's because MBAs have become a sure thing for that $150k salary at mega corp/consulting firm/investment bank.  The host of business school rankings and the like have attracted a new breed of cookie-cutter student.  I guess the term 'business manager' is right there in the MBA title, but it tells me that there's room in the market for a new type of school, one that I'll call the Entrepreneur University.
Here are some suggestions for how the Entrepreneur University / Startup Ninja School would work:
There's no accreditation — you're on your own, startup ninja
You don't get a degree when you graduate — instead, you get a business (that you've created) and a network of like-minded EU graduates, who will help you succeed
You're required to pay for your own degree — no federal loans — go scrape the money together from friends, family, investors (in your future business), or convince the school to give you a scholarship.  Get used to fundraising — it's hard, and you may as well learn about it early on.
You can graduate whenever you want.
There's no set curriculum — you pick and choose the classes you need
The faculty's fluid — all teachers have in-practice experience (or are currently running their own business(es)
The school gets a equity stake in your business
No need for a career placement office
No need for grades — fail all you want now, and likely fail later — most exams are actual work-related projects
Plenty of guest speakers, but we try to avoid pundits — they have to be able to describe how they put their ideas into practice somewhere, and relatively recently
This sounds extremely close to
YCombinator
,
TechStars
, and the like, right?  But I'm thinking something that's much more nationwide/worldwide, with a mission that isn't just limited to tech entrepreneurs, but for would-be business creators of all kinds.
What do you think?  Is there a market for this?  I think so.  It makes me want to get started… but, I'm a little busy with TeachStreet 🙂