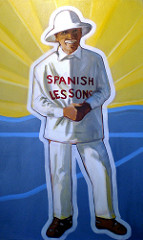 Photo Credit – Scott Erickson
Without sharing many details, I wanted to let folks know that the placeholder name for my new startup company is ooGooRoo. Yes, I know that just rolls off the tongue, doesn't it?
Our mantra will be — "Connecting Inquiry With Enlightenment". So, with all that background information, if you have any improved naming ideas, please send them my way.
Of course, the real reason I'm making this post is to get some links pointing to that site to get the Google Juice going — I mean, a link from No Snivelling is apt to send so much traffic there that I'm already increasing my net wealth exponentially — you have to love this Web 2.0 world!
—
Observation of the Day – I have an all new appreciation for the value of time and the importance of setting goals and deadlines – now that my own project gets delayed every time I do something that isn't helping me achieve my goals, I have no one to blame but myself (and my poor choice of activity prioritization). So, this week, I'm really going to get v1 of my Business Plan done — in fact, I'm going to get that version done tonight and out to my Product Marketing GooRoo (yes, employee #2 at ooGooRoo is officially on the payroll in less than two weeks!) and my prospective Technical GooRoo (employee #3 is in the wings!).
So, back to the salt mines…