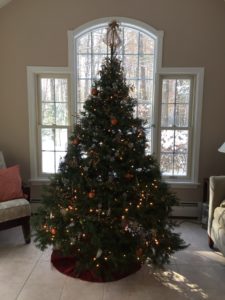 The Alexa / Echo / TP-Link Smart Plug integration with our Christmas tree is one of our favorite additions to our holiday experience.  It's rare that Karen also gets into the electronic action, but she loves it too.  Check out the video to see how it works (Note — the TP-Link Smart Plug works with the Kasa app (iOS or Android), so you can also easily schedule it to turn on and off at your set times (e.g. 'turn on at 4pm and turn off at 11pm')).
We got the TP-Link Smart Plug for $5 as an add-on to the purchase of an Echo Dot — pretty awesome deal.  Check them out below:
I also recently saw another cool Alexa integration — this one shows how you can use Alexa to raise and lower your window blinds.